News Release
July 19, 2011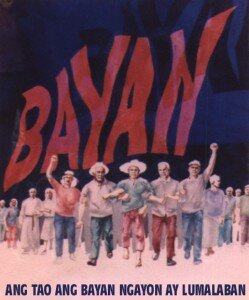 The latest oil price hike, just before President Benigno Aquino III's State of the Nation Address, underscores the failures of the current administration in protecting consumers, according to the Bagong Alyansang Makabayan (Bayan).
"There is growing discontent over the Aquino government's inability to protect consumers from skyrocketing prices and profiteering by the oil monopolies. The so-called 'pantawid pasada' offered to jeepney drivers has long been criticized as inadequate. Aquino offers neither solutions nor relief from rising oil prices. He has adamantly opposed proposals to suspend, reduce or scrap the Value Added Tax on oil," said Bayan secretary general Renato M. Reyes, Jr.
Bayan said that criticisms hurled against Aquino's recycled economic policies, whether they come from the transport sector or from members of the military, should be addressed squarely.
"And they wonder why people like Col. Generoso Mariano are airing their grievances against the government?" Reyes said, in an apparent swipe at a recent Palace statement.
Over the weekend, a video of a retiring Navy officer surfaced wherein the officer railed at the inability of the current regime to address poverty, hunger and rising prices. Mariano also slammed official statistics on economic growth.
Bayan said that amid these price hikes, oil giants like Petron announced that they will be posting double-digit profits this year. News reports quoted Petron as having a 79% increase in its net income for the first quarter of 2011.
"It is simply unconscionable that these oil firms rake in super-profits at the expense of the people. It is also unconscionable that government continues to earn windfall  VAT revenues from the people's misery. People are being squeezed dry and the President is doing nothing," Reyes said.
"Will rising prices be on the President's SONA? Or will calls for substantial economic relief be again ignored in favor of stop-gap or pantawid measures?" Reyes said. ###