News Release
September 30, 2011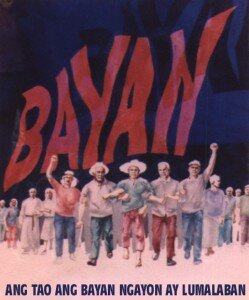 The umbrella group Bagong Alyansang Makabayan today called on the public to remain vigilant over proposals to amend the Constitution, especially now that the process has been likened to just passing any law.
At yesterday's Legislative Summit, both chambers of Congress agreed that amendments to the Charter will go through normal the legislative process with both chambers voting separately in a bicameral constituent assembly.
"The proposed mode now makes it easier for proponents cha-cha to amend the Constitution. It would be just like passing a law. It could open the floodgates to so many amendments. Even the so-called focus on economic provisions does not assuage our fears of charter change. In fact, the proposed removal of restrictions to foreign investments and foreign ownership is already a cause for alarm. We believe this amendment will cause more harm than good," said Bayan secretary general Renato M. Reyes, Jr.
"Charter change measures- even those related to the economy- should not be a priority of Congress. The idea that we need to attract more foreign investors to develop our economy is now being challenged in the light of the global economic and financial crisis. Quite the opposite, we should be pursuing an economic model that is not highly dependent on foreign investments, foreign loans and overseas remittances. Protectionist provisions in the Charter, even if few, are therefore necessary," Reyes added
Bayan said that in the bill filed by Misamis Occidental representative Loreto Ocampos, proposals to amend the constitution include the following:
· Removing the 60 – 40% equity limitations
· Removing control management exclusively by Filipinos in companies with foreign equity
· Expanding the role of foreign investors in exploration, development, and utilization of natural resources
· Allowing foreign ownership of industrial lands
· Liberalizing media by allowing foreign investments
· Liberalizing the practice of profession by allowing foreigners to practice their profession in accordance with the principle of reciprocity
· Liberalizing investments in educational institutions by allowing foreign investment in tertiary education
· Extending the 25 + 25 land lease agreement
"The Philippines for so long has been reliant on foreign investments, yet the country has always received the shorter end of the stick. The promised emergence of a tiger economy never happened. Our government should be thinking ways of further strengthening our domestic economy in the wake of the global crisis and slowdown. The protectionist provisions are necessary given that existing laws have already provided so many incentives for foreign investors," Reyes said