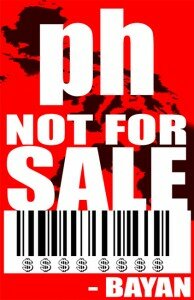 News Release
July 12, 2012
General Santos City, Philippines – Bagong Alyansang Makabayan (BAYAN -SOCSKSARGEN) today lambasted Aquino's Executive Order 79 or Revised Mining Policy saying it sends "go signal" for the full-blast operation of foreign-backed Sagittarius Mines Incorporated (SMI) and blatantly undermine the South Cotabato Environmental Code.
"Aquino's EO 79 would reinforce environmental destruction, forcible dislocation of farmers and indigenous peoples, heavy militarization and human rights violations as it intentionally allow mining multinational corporations like Xstrata-SMI to continue its large-scale operation. What the people demand is to put a halt to these devastations instigated by foreign companies under the notorious Mining Act of 1995" said Ryan Lariba, Secretary-General of BAYAN-SOCSKSARGEN.
"EO 79 grossly belittles the autonomy of the local government units who are opposed to large-scale mining operations. It likewise brazenly insults the people of various localities consistently defying the intrusion of environmentally-destructive projects. Environmental Code of South Cotabato had been approved as a result of people's strong resistance against Xstrata-SMI" Lariba added.
Sugar-coated
BAYAN pointed out that Aquino government itself in its attempt to hoodwink the people has sugar-coated the EO 79 with its token provisions. Among others are mining moratorium and increase on tax revenues.
"These provisions do not fundamentally modify the current orientation and character of our mining industry that is destructive and anti-people. EO 79 even upholds existing mining contracts and permits the mining companies to further plunder our rich but finite mineral resources. Our mining industry is still foreign-controlled and export-oriented. Aquino government is fooling the people with its sugar-coated Executive Order" Lariba said.
EO 79 fuel protests
The group stressed that the EO would further fuel more protests against Aquino administration and its anti-people and pro-capitalist mind-set and stance.
"EO 79 would be vigorously opposed by the people. We expect more protests in the coming weeks. If the government is serious in curing the chronic ills besetting our environment and the people, Mining Act of 1995 should be scrapped immediately. Mining industry should have a high regard for the interests of local communities. It should serve for national industrialization" Lariba ended.