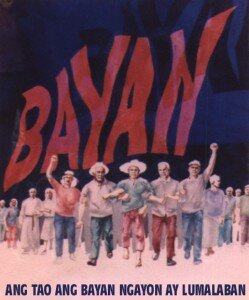 News Release
August 31, 2012
The DILG is now 'Mar-red'  by narrow political interests
The umbrella group Bagong Alyansang Makabayan said today that the appointment of Department of Transportation and Communications Secretary and Liberal Party president Mar Roxas as secretary of the Department of Interior and Local Government "has more to do with the upcoming 2013 elections than anything else."
"It seems the Liberal Party has gotten the upper hand on this one. It wants control of a department that has strategic value for the upcoming 2013 elections and eventually the 2016 elections. The partisan political motivation of Roxas' appointment is too obvious to ignore. It also says a lot about the appointing power, President Benigno Aquino III," said Bayan secretary general Renato M. Reyes, Jr.
"The perception is that his appointment is intended to give the Liberal Party an undue advantage in the upcoming polls. At the very least, Roxas should take a leave from the Liberal Party at least up until after the 2013 elections, though it is highly unlikely he will," he added.
Prior to the elections, it was reported that the two main factions within the Aquino government were vying for the post of DILG secretary. It was also reported that the Liberal Party had met with Aquino and asked that the secretary who will be appointed after the deceased Jesse Robredo would come from the party. The DILG chief would have influence over the police and local government units, which could be a crucial advantage in swinging the votes for 2013.
"The appointment of Roxas is the ultimate 'trapo' maneuver courtesy of Mr. Aquino. How sad and ironic that after the President praised Robredo for being anti-trapo, now comes this appointment which has all the trademarks of traditional politics," Reyes added.
Reportedly replacing Roxas at the DOTC is Liberal Party secretary general and House Appropriations Committee Chair Emilio Abaya.
"The so-called daang matuwid has been trumped anew by narrow, partisan politics. It's the LP show now," Reyes added.
Challenges to Roxas
At the time of his death, Secretary Jesse Robredo was confronted with the daunting task of looking for relocation sites for some 100,000 settlers that were supposed to be displaced by the Aquino government because they were living near waterways. Robredo, based on his public statements, was in favor of in-city relocation sites. Robredo said his interagency task force has found a possible relocation site in Pasay where permanent structures could be set up to house the dislocated residents. Robredo has also met with progressive partylist groups and urban poor groups in the past on the issue of violent demolitions and the absence of viable relocation sites.
"Roxas faces issues related to the forced eviction of urban poor communities and the relocation of these communities. Will Roxas implement a policy of all-out war against the urban poor or will he sit down to look for viable solutions to the long-standing problem of housing which has given rise to violent demolitions?" Reyes said. ###