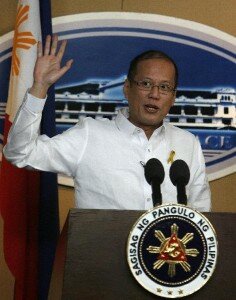 News release
Nov. 29, 2012
Multisectoral group Bagong Alyansang Makabayan (Bayan) today dismissed the reported "surprising growth" of 7.1% in the economy as unsustainable, claiming that the much-ballyhooed expansion was still due to external factors and not pushed by a dynamic domestic economy.
On Wednesday, the National Statistical Coordination Board (NSCB) reported that the gross domestic product (GDP) increased by 7.1% in the third quarter of the year, much faster than the 3.2% growth recorded in the same period last year.
But Bayan pointed out that the acceleration in the GDP is mainly attributable to the inflows of funds from external sources, in particular the foreign direct investments (FDI) for the business process outsourcing (BPO) sector and the remittances of overseas Filipino workers (OFWs).
The group explained that the BPO sector and OFW remittances, are fuelling the so-called "construction boom" in the country, which in turn pushed the GDP growth both in the consumption and spending sides.
NSCB data show that by industrial origin, the gross value added (GVA) in construction grew by 24.3% in the third quarter, the largest among all sectors. Manufacturing, for instance, expanded by just 5.7 percent. Meanwhile, construction expenditure expanded by 24.8% during the same period, easily the fastest growth rate among all types of expenditures that contributed to the GDP growth.
"BPO and OFW remittances could not be expected to sustain the economic growth over the long term because they depend largely on the conditions of foreign economies, particularly the US and other rich countries where FDI and remittances come from," said Renato Reyes, Jr, Bayan secretary general. "They also do not represent positive signals for the economy but in fact are abnormalities created by age-old deeply flawed national policies and programs," he added.
Such kind of GDP growth also explains why the expansion in the economy is not addressing the basic problems of poverty and joblessness. Official unemployment rate as measured by the National Statistics Office (NSO) was 7% in July 2012 (2.83 million jobless workers), practically the same level as last year's 7.1% (2.82 million unemployed). Ironically, the large number of OFWs is being driven by the lack of jobs in the domestic labor market. Further, the Social Weather Stations (SWS) in its August 2012 survey reported that 47% of Filipino families (about 9.5 million) consider themselves poor.
"Malacanang can jump with joy over the new statistics but at the end of the day, people will still measure growth in terms of higher wages and salaries, jobs created domestically, social benefits, lower prices and other indicators that are directly felt by the people. What we are seeing appears to be jobless growth since unemployment remains quite significant and almost unchanged, even if based on official data," he said.
Bayan reiterated that persistent poverty and unemployment can only be reversed by building national industries that will generate long-term jobs and sustainable sources of income for the people. "Sadly, amid all the noise about good governance and inclusive growth, our economy is still geared towards meeting international demand rather than actual domestic needs," Reyes said. ###