News Release
September 12, 2011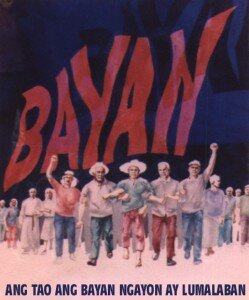 With transport groups gearing for another massive protest, the umbrella group Bagong Alyansang Makabayan today called on the Aquino government to prioritize the scraping of the Value Added Tax on petroleum products, a move that will significantly lower oil prices. The group also slammed a Palace call for belt-tightening amid higher oil prices.
Bayan secretary general Renato M. Reyes, Jr said that the Aquino government's refusal to do away with the VAT shows "gross insensitivity to the plight of the people."
"There various proposals in Congress calling for the lowering of the VAT rate up to outright scrapping of the VAT on oil. It is unconscionable that the Aquino government continues to collect this tax despite the people's misery with rising oil prices," Reyes said.
According to the Congressional Policy and Budget Research Department, VAT on oil revenues are expected to reach P70 billion this year, or a windfall of P26 billion, because of constantly increasing oil prices. This is significantly bigger than last year's VAT on oil collection of P45 billion.
"Instead of asking the public to tighten their belts, government should instead tighten its own by reducing VAT collections on oil. The public has long been trying to make ends meet and making sacrifices. We have not seen the government make any sacrifice," Reyes.
"Government is obsessed with collecting the P70 billion in VAT on oil revenues at the expense of the people. It's just obscene to be earning windfall revenues of P26 billion while the public suffers from high oil prices. Our policymakers are either callous or oblivious towards the people's plight," he added.
The group said that the Palace defense that VAT revenues go to social services is unsubstantiated.
"If you look at the proposed expenditures for 2012, the biggest item on the budget would still be debt servicing, because of the Automatic
Appropriations Act. So the Palace claim that VAT revenues go to social services, that's just not true," Reyes said.
Bayan said that social spending on such items such as the Conditional Cash Transfer (CCT), which for 2012 is expecting a P39 billion budget, is not enough to justify the continued collection of the VAT on oil. Various groups have assailed the CCT as a mere dole-out program that does not really address poverty. Government also only spent P500 million for the so-called
"Pantawid Pasada", a limited fuel subsidy program.
"When Aquino assumed power, he proclaimed that his government was a departure from the Arroyo regime. Yet on the issue of VAT, Aquino is no different from his economics teacher Arroyo," Reyes said.
It was during Arroyo's term as president that the VAT on oil and power was first implemented.###