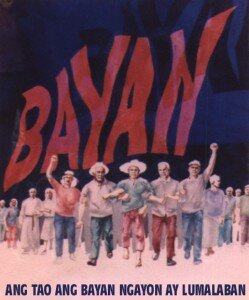 News Release
November 28, 2011
The Bagong Alyansang Makabayan today called on farmers of Hacienda Luisita to prepare for greater challenges in the fight for the distribution of the vast estate.
"There are factors working against the farmers in this difficult fight. This includes the limitations of the current law on land reform, the insistence of the executive for the 'just compensation of the landowners, and the limited land that would be actually distributed," said Bayan chair Carol Araullo.
"The Luisita management will still try to maneuver to delay the distribution or undermine the victory of the farmers, including the possible demand for greater government compensation. This amount would eventually be paid by the farmers. The key would be the farmers organizing themselves to carry out land reform. The farmers need to strengthen their organizations," Araullo said.
Bayan also called on the government to demilitarize Luisita and to allow farmers to freely build their organizations.
The 10 barangays in the area have been the subject of intensive counter-insurgency operations from the time of Gloria Macapagal Arroyo under the program Oplan Bantay Laya. Several unarmed activists were killed in a span of three years. Luisita is located just meters away from the Northern Luzon Command of the Armed Forces of the Philippines. In the aftermath of the 2004 strike, military detachments were set up inside the communities. A military detachment for example exists in the barangay where union president Ricardo Ramos was killed.
"Militarization will hamper efforts to organize farmers towards the collective goal of land reform. Leaders and organizers are often subjected to surveillance. Members are intimidated. It is imperative that farmers are able to build and expand their organizations to counter the maneuvers of the Luisita management," Araullo added.
Bayan said that farmers in Luisita are prepared to collectively till the land considering that each farmer stands to get less than 1 hectare following the Supreme Court ruling on the coverage of land distribution and the number of identified beneficiaries.
"Many have expressed the cynical view that farmers are not capable of being productive and will eventually sell the land back to the big land owners. To prevent this, there must be a strong farmer's organization that would push for demands beyond the limited CARPER program," she added. ###