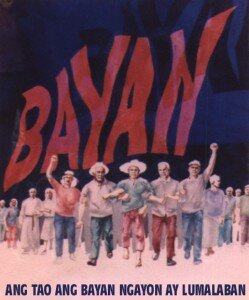 News Release
November 18, 2011
The umbrella group Bagong Alyansang Makabayan today gathered in front of the Supreme Court for the special en banc session on former president Gloria Macapagal Arroyo's travel abroad. The group is calling for the withdrawal of the Temporary Restraining Order of the SC on the Department of Justice which earlier sought to keep Arroyo in the country.
Carrying placards that read "Gloria Panagutin, Huwag Patakasin!", the groups expressed indignation over the TRO issued by the SC that will allow Arroyo to travel abroad.
"We have to make it known to the SC that the people want Arroyo to be made accountable and that there are valid concerns she is trying to evade justice. We oppose the issuance of the TRO which many believe was unnecessary and was issued in haste. The withdrawal of the TRO is the proper thing to do now," said Bayan secretary general Renato M. Reyes, Jr.
"Let us not forget the crimes of the former president which include human rights violations along with plunder and electoral fraud. There is no assurance she will return. We find no comfort in her P2 million bond nor with Atty. Ferdinand Topacio's offer of his testicles. There are no assurances or strong guarantees provided even by the SC that Arroyo will indeed return," he added.
Bayan said that if the SC decides to uphold the TRO, and GMA does leave, the High Court would have to put in place stronger guarantees that she will return and face the charges against her.
Even as it awaited the SC's decision, Bayan also called on the Aquino administration to "exert all efforts to file the necessary cases against GMA in the proper courts at the soonest possible time."
"The burden of prosecuting GMA lies with the Aquino government. Criminal complaints have been filed. The public is waiting for these cases to be filed in court, with Aquino being in power for more than a year now," Reyes said.###