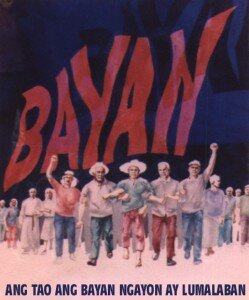 News Release
December 10, 2011
Human rights defenders led by Karaptan and the Bagong Alyansang Makabayan (Bayan) today marched to the historic Mendiola bridge in observance of International Human Rights Day. For the past four days, the roads leading Mendiola were the site of violent clashes as police prevented protesters from reaching the protest site. It would be the first time the groups would reach the protest site after the recent clashes with police.
"Despite the praises heaped by the United State Embassy on the Philippine government for so-called achievements in human rights, the sad reality is that many of the abuses that happened during the past administration are continuing today," said Bayan secretary general Renato M. Reyes, Jr.
"Even sadder is the fact that not a single criminal case has been filed by the government against any of the notorious human rights violators, past and present. There is zero justice, zero accountability for human rights. The government puts up a tough façade versus GMA's corruption but has done practically nothing to achieve justice for human rights victims," he added.
From 2001 to 2011, only 1% of the 364 cases of extrajudicial killings resulted in the conviction of perpetrators, according to an independent audit by litigator and legal researcher Atty. Al Parreno.
Bayan reiterated its call for the jailing of former president Gloria Macapagal Arroyo and for the release of some 365 political prisoners nationwide. "Many of the political prisoners now were arrested during the time of Arroyo. GMA is still lucky so to speak, since her current state is infinitely better than the state of our political prisoners languishing in jails nationwide," Reyes said.
"The ridiculous thing is that this government does not seem to recognize the existence of these 365 political prisoners, he added.
Bayan wants Arroyo to suffer the same fate as former Peruvian president Alberto Fujimori who was handed down a 25-year sentence for human rights violations in 2009.
Facebook "intel"
The group also decried the recent violent dispersal of protesters that happened during the observance of Human Rights Week.
"The Philippine National Police and the government, acting on so-called intelligence reports they gathered from Facebook and social networking sties, decided to put up an elaborate security plan to thwart the student camp-out in Mendiola. Their paranoia over the Facebook posts resulted in the massive deployment of police, some even coming from regions outside Manila, and eventually, to the violent clashes we've seen the past few days," Reyes said.
"We wonder why the Commission on Human Rights has been so eerily silent over these violent dispersals  as well as other gross human rights violations happening under the Aquino government," he added.
The CHR is headed by former Akbayan representative Eta Rosales, a known political ally of the Aquino administration.
US hypocrisy
Bayan also slammed the US government for statements praising itself and the Philippine government as being "staunch allies" in promoting human rights.
"Coming from a country that has embarked on the most heinous human rights violations in history, the praise by the US government for the Philippine government is utterly meaningless. The US does not promote human rights when it bombs sovereign nations, sponsors dictators and curtails freedoms in its own backyard," Reyes said.###