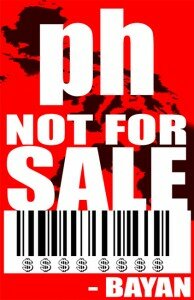 News release
January 3, 2012
Multisectoral group Bagong Alyansang Makabayan (Bayan) today hit the rate hike imposed by the private water concessionaires in Metro Manila as it pointed out that the optimism greeting the New Year is quickly being dashed by the reality of flawed policies the Aquino administration continues to implement such as public-private partnership (PPP).
Starting January 1, Maynilad Water Services Inc. and Manila Water Company began implementing the new rates approved by the Metropolitan Waterworks and Sewerage System (MWSS) that will again hike the bill of consumers. For Manila Water customers using 30 cubic meters, their monthly bill will go up by P19.52 (from P588.80 to P608.32). Maynilad customers, on the other hand, will see their bill increase by P58.16 (from P744.26 to P802.42) beginning this month. The increases are the third installment in the adjustments in basic tariff and consumer price index approved in 2008 as part of the privatization contract between the MWSS and the private concessionaires.
"The privatization of MWSS is one of the largest PPP projects ever implemented in the country. Almost 15 years ago, it was tauted as the solution to inefficient water services amid exorbitant user fees. Today, the basic charge for water services in Metro Manila has already soared by as much 1,000% since the privatization in 1997," Renato Reyes, Bayan secretary-general, said.
Aside from jacking up the rates and marginalizing the poor, Manila Water and Maynilad have failed to ensure universal access and 24/7 availability in their service areas. Less than 60% of 790,000 households in Maynilad's service area have 24-hour water service while only 74% receive water at 7-pound per square inch (PSI) or stronger pressure. More than half (51%) of water allocated to Maynilad continues to get wasted because of leaks and pilferage.
Meanwhile, Manila Water, claims 99% water supply coverage in its service area but will not say how big the portion is with individual and direct household connection and those serviced by private water suppliers or "middlemen". These areas served by a third party private contractor are often poor communities and most vulnerable to water supply disruption.
"Unfortunately, the Aquino administration is determined to pursue the PPP path despite its disastrous consequences such as the case of MWSS privatization. Clearly, there is a need to reverse this policy course," said Reyes.
The PPP Center, the government agency tasked to lead the government's PPP efforts, has announced last month that the infrastructure privatization program will gain momentum this year with an initial 16 major projects expected to be bid out. #