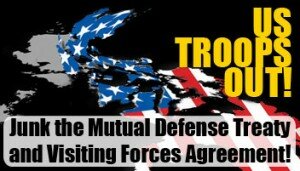 News Release
January 28, 2012
The umbrella group Bagong Alyansang Makabayan today slammed the Philippine and US governments for the ongoing negotiations that aim to put more US troops and ships in the Philippines as part of the US build-up against China. Bayan and its member organization held a protest action today in front of the US embassy and demanded discolusre of the terms of the negotiations while opposing additional US troops.
"The US and Philippine governments are reversing the hard-won gains in booting out US bases from our country. They want more US troops to have a permanent and continuing presence, much like during the time of the US bases. They are deceiving the public when they say that US troops will be here on a temporary basis. That's a big, fat lie," said Bayan secretary general Renato M. Reyes, Jr.
"If the US troops are here on a temporary and rotational basis, how come they haven't left Mindanao since 2002? If we allow more US troops to enter our country, the entire archipelago will be transformed into one military outpost for US hegemonic interests. Worse, the VFA does not set a limit on the number of US troops that can enter the Philippine territory," Reyes added.
Prof. Roland Simbulan of the JUNK VFA Movement lamented that talks of additional US troops are underway when government has not addressed the problems with the Visiting Forces Agreement.
"This is an about-face from the position taken by P-Noy when he was senator, reneging on the resolution he signed to review the VFA and if the US ignores it, have the VFA abrogated," Simbulan said.
The International League of People's Struggle Philippine chapter meanwhile said that the people of Southeast Asia should oppose US expansionism and bulllying. "The US, not China, is the biggest bully around. The US is the biggest threat to world peace, having launched two major wars over the past ten years. US military presence is not a detterent to war. US presence here adds tension to the region," the group said.
Reyes said that the Philippine government is either naïve or ignorant when it believes that US troop presence will help our claims over the West Philippine Sea.
"It is so obvious that the US is merely playing-up the China-card and the Spratly's issue so they can get a better foothold on this region. The US doesn't care for our interests. They only care for their own economic, political and military agenda," Reyes said.
"Let's not put a price tag on our sovereignty and national interest. The Aquino government is so easily swayed and dictated upon by the promise of US miiitary junk and second-hand equipment," he added.