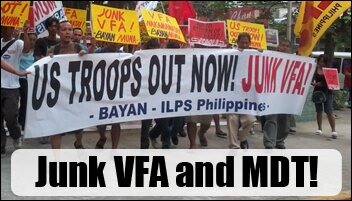 News Release
February 4, 2012
Members of the umbrella group Bagong Alyansang Makabayan today marched in protest to the US embassy in Manila in commemoration of the 113th anniversary of the Fil-Am War. The protest comes in the wake of ongoing negotiations between Manila and Washington for the stationing of more US troops in the Philippines. Two US officials are set to visit Manila this month to take up defense and trade issues.
Protesters carried placards that said "Yes to the return of the Balanggiga Bells! No to the return of more US troops!" a reference to the bells from Samar province that were taken by the occupying US forces at the turn of the century.
"We have not forgotten the Fil-Am War which marked the start of US colonial relations with the Philippines and laid the groundwork for the neo-colonial relations that followed. Then and now, the US seeks to advance its own imperialist interests at the expense of our own national interest," said Bayan secretary general Renato M. Reyes, Jr.
"The Philippine government has not learned the lessons of 113 years of relations with the US. While no longer a colony, the Aquino government apparently wants to make our country a colonial outpost for US troops and ships," he added.
Questionable US role in Sulu airstrike
Bayan also questioned the timing of the news of an airstrike in Sulu two days ago that allegedly killed three high-profile Abu Sayyaf leaders. News reports said that airstrike was backed by the US military. Reports also say that the Philippine military has yet to find the remains of the alleged terrorists.
"The timing of this news is suspect since it comes at the heels of the announcement for more US troops in the country. It is being made to appear that the US troops were instrumental in the raid, and that their continued presence, even after 10 years in Mindanao, is good. Will there be more similar actions to justify the deployment of more US troops in the near future?" Reyes said.
"The Philippine government should disclose what actual role the US played in the operation. Was this a US operation or a Philippine operation? Where are the alleged terrorists? There have been criticisms in the past that the US is in involved in actual combat operations and this raid seems no different," he added.
Bayan said whether or not alleged terrorists were indeed killed in the raid, the combat participation of US troops is something that goes against the Visiting Forces Agreement.  ###