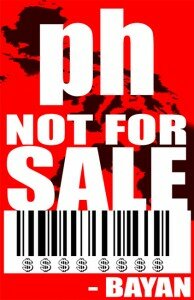 News Release
March 29, 2012
The umbrella group Bagong Alyansang Makabayan blames the Electric Power Industry Reform Act as the policy which contributed and aggravated the current power crisis in Mindanao. The group quoted a multi-sectoral report entitled "Power Failure: 10 years of the EPIRA" in saying that energy security has been compromised and held hostage by private profits and interests.
The EPIRA was one of the first major laws enacted under the regime of Gloria Macapagal Arroyo and paved the way for the full privatization of the power industry. This included the sale of power plants to private bidders. The national government can no longer build new power plants and will have to rely on private investors for the construction of new plants to meet the growing energy needs of the country.
"The EPIRA has not brought about and will not bring about a stable electricity supply to the whole
country," the report said.
"Under the EPIRA the projected capacity are to be constructed by Independent Power Producers. Private investors and IPPs would only build and maintain a power plant if it remains economically viable and earn profits for them," it added.
The Department of Energy estimates that Mindanao will need some 2,500 MW in additional capacity for the next 20 years. It hopes that some 1,055 MW in capacity will be installed over the next six years but only 25% of this target is comprised of actual projects while the rest are still in the planning stage.
Bayan said that Mindanao consumer are now in a difficult situation of having to source power from expensive private power barges while having to wait for the installation of new capacity that are from privately-owned plants, which will also likely be expensive.
"The EPIRA policy of privatization has taken its toll on Mindanao. The power crisis has long been predicted by different agencies, but from the onset, the government tied its own hands.  Because of the EPIRA, government must rely on the private sector to install new capacity to meet the 270 megawatt daily deficiency," said Bayan secretary general Renato M. Reyes, Jr.
"With the proposal for emergency powers for the president, negotiated contracts with onerous take-or-pay provisions will once again rear their ugly heads. It brings us back to the nightmare that was the purchased power agreement (PPA) wherein consumers will have to pay for electricity that was not generated," Reyes added.
Government intervention is necessary according to Bayan, but this should be in the form of ensuring increased capacity at reasonable rates. "There are proposals for pursuing renewable energy as opposed to the construction privately-owned coal plants. These can also be undertaken by the national government in this period of a power shortage," Reyes said.
"The Mindanao power crisis should spur the government to re-examine the EPIRA policy of total privatization of the power sector. While short-term solutions are welcome, the people also require long-term energy security," he added. ###