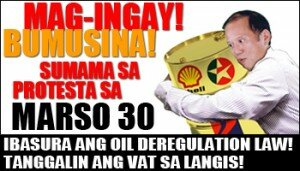 New Release
March 30, 2012
The recently launched Coalition Against Oil Price Increase (CAOPI) will spearhead a noise barrage tomorrow March 30 against high oil prices. The protest action will be between 5-7pm in areas as Edsa cor West Avenue, Edsa cor Quezon Avenue, Edsa Cubao, Monumento in Caloocan, Philcoa in Quezon City and other parts of Metro Manila.
The group is calling on motorists and commuters to join the noise-making as a sign of protest against government inaction against the high oil prices.
Petroleum prices are expected to go up again next week according to the Department of Energy.
"We call on our consuming public to protest and to protest loudly against the uncontrolled price increases. We call on the Filipino to raise their voice against government's stubborn inaction on various proposals that would bring down oil prices," said CAOPI convenor," said CAOPI convenor Sammy Malunes.
"There are many proposals for brining down oil prices, including the removal of the VAT on oil and the repeal of the oil deregulation law. There is an alternative to deregulation and that invovles regulation and nationalizing the oil industry," said co-convenor and UP professor Danilo Arao.
Umbrella group Bagong Alyansang Makabayan said that the oil companies and the Aquino government were provoking the people's anger with the projected increase next week.
"It's Holy Week and many will be travelling to the provinces. They will surely feel the burden of high oil prices. Even plane fares have gone up. And when they return from the provinces, it's possible oil prices would have gone up again," said Bayan secretary general Renato M. Reyes, Jr.
CAOPI has called for the removal, suspension or reduction of the Value Added Tax on oil products, the repeal of the oil deregulation law, the regulation of prices in the wake of overpricing allegations, and the nationalization of the oil industry.
Its convenors support any or all of the proposed measures that are aimed to bring down oil prices.
Convenors and suppporters include Marikina Councilor Joseph "Jojo" Banzon, UP Prof. Danilo Arao, Zambales Rep. Mitos Magsaysay, Bayan Muna Rep. Teddy Casiño, Anakpawis Rep. Rafael Mariano, Gabriela Rep. Luz Ilagan, Mr. Donald Dee of the Philippine Chamber of Commerce and Industry (PCCI), Ms. Elvira Medina of the National Council for Commuter Protection (NCCP), BAYAN secretary general Renato Reyes, Jr, former Negros Rep. Jacinto Paras, Mr. Bayan dela Cruz of the National Economic Protectionism Association (NEPA), Mr. Sonny Africa IBON and the Association of Major Religious Superiors of the Philippines (AMRSP).
KMU Vice-chair Sammy Malunes, Piston Chair George San Mateo, Gabriela Sec-gen Lana Linaban, Anakbayan chair Vencer Crisostomo, Kadamay Sec-Gen Bea Arellano, KMP chair Danilo Ramos and Pamalakaya chair Mr. Fernando Hicap.
Supporters of the coalition include Quezon City Rep. Winnie Castelo, Mr. Ricky Papa, President, Alliance of Concerned Truck Owners and Operators (ACTOO), Mr. Alejandro Mangune, President, Batasan Hills Tricycle Operators and Drivers Association (BATODA), Mr. Emil Obcemia, Housing and Advocacy Program, Caritas Manila Inc. and Sr. Agneta Lauzon, Kilusang Makabayang Ekonomya (KME). The coalition is also being supported by religious groups, several unions and student groups. ###