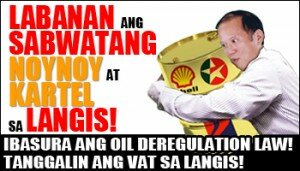 News Release
April 18, 2012
The umbrella group Bagong Alyansang Makabayan today called the attention of rival political parties vying for the 2013 elections to focus on pressing national issues instead of personality-based politics.
"Most of the talk about politics nowadays has focused on personalities and their political allegiances and lineage. We are witness to unlikely alliances, politicians switching parties and personal attacks and counter-attacks on prospective candidates. Lost in the political noise are the most urgent issues of the day," said Bayan secretary general Renato M. Reyes, Jr.
The latest Pulse Asia survey say that among the public's most urgent concerns today are high prices, wage increase, job creation and poverty reduction. The same survey says that the least of the public's concerns include the Corona impeachment trial.
Controlling inflation was a concern of the majority of respondents across all geographic areas, according to the survey. Wage increase was also a majority concern across all geographic areas and socioeconomic classes.
"It's likely that the Liberal Party would be focused on defending the President. That may turn out to be its biggest liability. Meanwhile, it remains to be seen if the newly formed United Ntionalist Alliance (UNA) of Vice President Jojo Binay and former President Joseph Estrada will take a progressive stance on the issues that really affect the public," Reyes said.
"The people will really not have much of a choice if the political exercise will be focused on candidates with last-name recall, political pedigree and celebrity endorsements. We deserve better than that. The people want candidates who will boldly take on issues such as the P125 wage increase, the oil deregulation law, the privatization of the power industry, human rights violations and national sovereignty," Reyes said.
Bayan urged UNA to develop a platform that would address the long-running problems of poverty and underdevelopment that has plagued the country. "More than just saying it is an alternative to the Liberal Party, UNA must prove that it is really different from the LP in terms of platform and program," he added.###