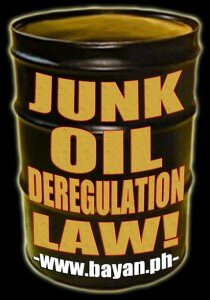 New Release
April 2, 2012
The umbrella group Bagong Alyansang Makabayan today led a picket in front of the Department of Energy in Taguig today as oil prices were again expected to go up this week. Bayan decried the oil companies and the Aquino government as 'heartless and without conscience' since the price hike comes during Holy Week when millions of commuters go back to the provinces.
Meanwhile, leaders of the recently launched Coalition Against Oil Price Increase (CAOPI) attended the public consultation of the Independent Oil Price Review Committee (IOPRC) organized by the DOE to examine the pricing schemes of the oil companies amid allegations of overpricing.
"Indeed the oil companies remind us that this is the season of suffering. The consuming public is burdened by the cross of high oil prices, high electricity rates, the oppressive VAT and the Oil Deregulation law. Up to now, the Aquino government has not done anything to alleviate the suffering of the people," said Bayan secretary general Renato M. Reyes, Jr.
"This government has only succeeded in crucifying the public every week," he added.
CAOPI challenged the IOPRC to uncover the questionable pricing schemes of the oil companies as various groups have charged them with overpricing their products.
"If the panel is to make a substantial, meaningful and credible review of the ODL and the pricing practices of the oil companies, it should take a very close look at the type and terms of contracts of the local oil firms with their suppliers, especially those that are local units or partners of the world's biggest oil companies. This will help determine whether the prices that they implement are justified by movements in global oil prices and production costs. The panel must also examine and publicly disclose how the oil companies actually compute their prices, the components of their pump price, how they determine their prices in various locations, and other aspects of their pricing behavior," the group said in its position paper submitted to review committee.
"Another important issue is the extent of so-called "free competition". The panel must closely study how the small, Filipino-owned firms compete against the Big Three and the relatively new but globally established oil players – Where do small players get their oil supply? How do they counteract the sheer dominance of the big players which overwhelmingly outnumber their pump stations, who own the country's only refineries and key infrastructure such as terminal and depots, among others?" CAOPI said.