News Release
April  3, 2012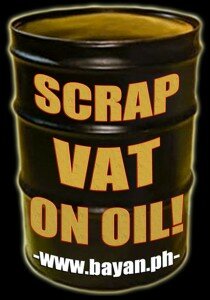 Instead of taking an "I-won't-budge" attitude, the President should start reading the writing on the wall and address the people's demands for relief. The call came from the Bagong Alyansang Makabayan a day after a survey firm showed a drop in the president's satisfaction ratings.
"Governance should not be survey-driven…We will push for what is right," the president was quoted in reports when he reacted to the survey results.
"President Aquino is beginning to sound like Gloria Macapagal-Arroyo. He dismisses survey results on his lower satisfaction ratings and says he'd rather be right than popular. That's exactly what Arroyo said in the past and that became her own undoing," said Bayan secretary general Renato M. Reyes, Jr.
"He should use the Lenten break to reflect on the people's issues instead of just dismissing these concerns. His recent pronouncements show gross insensitivity to the plight of the poor. The landlord president cares more about what foreign investors and creditors will think than what the poor are facing," Reyes added.
In 2007, in defending her fiscal reforms such as the VAT, then President Gloria Macapagal Arroyo said in her State of the Nation Address that she would rather be right than popular. "We were able to strengthen our economy because of the fiscal reforms that we adopted at such great cost to me in public disapproval. But I would rather be right than popular," Arroyo then said.
Bayan said that the survey was taken even before the term "noynoying" was introduced to the public. The survey was done between March 10-13 while the "noynoying" protest happened on March 15.
"Aquino only has himself to blame. Even before the "noynoying" term caught on, the public sentiment against the president's inaction was already there. Don't blame the activists, Mr. President. Look only to your government's performance," Reyes said.
President must act
"The survey results may indicate that the people are not content with the President's excuse that he is helpless in curbing or mitigating the effects of the oil price increases. The dissatisfaction especially among the poor may increase as power rates rise, oil prices remain high, and wages remain depressed," Reyes warned.
The survey showed a 13-point drop in the number of respondents who think Aquino is serving the poor and a 4-point increase in the number of people who think Aquino is serving the rich.
Bayan said that Aquino's intransigence on many proposals to alleviate the public's economic burdens, including the removal of the VAT on oil and calls for a wage hike, may further erode his approval ratings.