News Release
July 12, 2012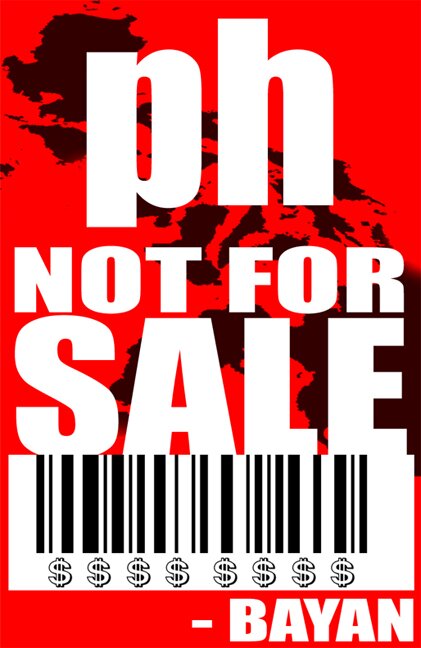 The umbrella group Bagong Alyansang Makabayan today opposed any move to amend the Philippine Constitution to remove protectionist economic provisions. The group said that proposals for the revision of economic provisions is tantamount to selling out the Philippine economy to foreign powers.
The statement from Bayan came as fresh talks of Charter change emanated from the leadership of both houses of Congress. The group described the proposed move as "economic treason".
"The move to tinker with the Constitution to lift restrictions on foreign ownership and investments in the Philippines is very dangerous. It is the equivalent of placing the entire domestic economy on  bargain sale to foreign corporations. Land, public utilities, services…everything would now be controlled by profit-seeking firms. Such a move will not lead to economic development, but rather to wholesale plunder of our resources. Charter change will provide the legal framework for so-called public-private partnerships or privatization schemes on such a wide scale, nothing will be left to the Filipinos," said Bayan secretary general Renato M. Reyes, Jr.
"We will mobilize against charter change during the President's upcoming SONA. Congress should not fast track this measure. Instead of thinking of ways to allow foreigners to own land, the Aquino government should instead focus on genuine agrarian reform, stopping destructive large-scale mining, and the development of the domestic economy," Reyes added.
Bayan said that the charter change move seems to be timed with bilateral and multilateral economic agreements being sought by the Philippines with Western powers. The group said that it was concerned with the efforts of bigger economies like the US and the EU to open up the Philippine economy and squeeze more profits.
"The charter change talks are being pushed along side so-called economic cooperation and partnership agreements with crisis-ridden economic powers like the US and EU. The US and EU want to squeeze as much profits from the Philippine economy since their own economies are now in depression. They are not seeking PH economic development. They are only after their resolving their own economic crisis," Reyes said.
Bayan said that recently, the Philippines and EU signed a Partnership and Cooperation Agreement which sets a framework for the further opening up of the PH economy to trade and investments with the EU. The Philippines has also expressed interest in joining the Trans-Pacific Partnership Agreement, a free-trade bloc lead by the United States that also seeks to open up economies in the Asia-Pacific.
"In a time when other economies are moving towards protectionism after the crisis wrought by neo-liberalism, the Philippines is gearing towards opening up its economy even more. It does not make sense at all. Our lawmakers believe that our economic salvation lies with increased foreign investments and 100% foreign ownership of land, utilities and other services. This kind of economic treason should be vehemently opposed," Reyes said. ###