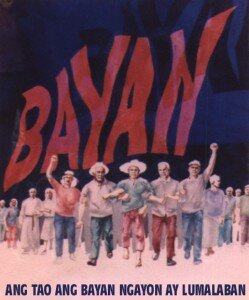 News Release
July 9, 2012
The umbrella group Bagong Alyansang Makabayan today criticized the new Executive Order on the mining industry as a "reaffirmation of existing anti-people and pro-imperialist policies embodied in the Mining Act of 1995". The militant group joined a picket in from of the Department of Environment and Natural Resources today.
"For all the hoopla surrounding this EO, it is still a reaffirmation of the plunderous Mining Act of 1995 which groups have blamed for large-scale and destructive mining all over the country. Proof of this is that the EO reaffirms and validates all existing mining contracts, 24% of which were entered under the Aquino regime. This is a victory for the big mining firms, but it's a dud as far as the people are concerned. We call on all affected parties to vigorously resist this EO," said Bayan secretary general Renato M. Reyes, Jr.
"The mining industry will remain geared towards exports. It will remain an extractive industry that has little benefit for the Filipino people and the domestic economy. Any mention of developing a downstream industry to process mineral wealth appears to be just an afterthought. Mining in the service of national industrialization does not seem to be a priority for the government. There is also the token mention of strict enforcement of environmental standards," Reyes added.
Bayan said that even the proposal to increase government revenue from mining will still be subject to legislation. "We can only expect the powerful lobby of the Chamber of Mines to go full swing to stop any legislation that will be detrimental to the profits of the big mining firms," Reyes said.
The group also noticed that the national government will undermine the power of local government units when it comes to regulating mining activities. The EO directs the DILG to ensure that local government units will act in accordance with national policies, including the Mining Act of 1995. It further states that LGU's shall confine themselves only to imposing "reasonable limitations"  on mining activities.
"The tenor of the EO clearly undercuts the power of the LGU's in favor of the Mining Act of 1995 and the interests of the big mining firms," Reyes added.
Bayan also called attention to the provision that states that no new mineral agreements will be entered into pending legislation, but at the same time allows mineral exploration to take place. Exploration permits will continue to be issued and those who are granted permits shall be given the right of first option to utilize the minerals in the exploration area.
"If we are to solve the problems associated with destructive large-scale mining, this has to be done outside the framework of the Mining Act of 1995. This will entail a reorientation of the mining industry towards meeting people's needs and the needs of national industrialization, and not the profit requirements of the big multinational corporations. This cannot be done under the Mining Act of 1995," Reyes said.
Bayan and its allied groups have thrown their support behind the Peoples Mining Bill authored by progressive partylist groups. ###