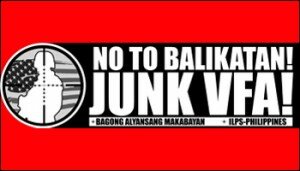 News Release
July 3, 2012
The umbrella group Bagong Alyansang Makabayan raised its strong objection to President Benigno Aquino III's proposal to allow United States spy planes to conduct overflights in the Philippines to allegedly monitor activity in disputed areas in the South China Sea.
The announcement came as  500 US troops began naval exercises in Mindanao under the CARAT 2012 program. Bayan is expected to lead a protest caravan in General Santos in Mindanao as well as a protest action in Manila tomorrow, July 4, on the occasion of Philippine-American Friendship Day.
"Not only has president Aquino acceded to additional US troops and warships to be stationed in the Philippines, he also considers PH airspace as sona libre for US planes under the guise of the US helping us monitor China. This paves the way for the re-use of Clark Airbase, a former US facility and that likely end up as a virtual base for US spy planes. Two years of the Aquino government and our sovereignty is still in tatters," said Bayan secretary general Renato M. Reyes, Jr.
"US spy planes, whether manned or unmanned, have been conducting flights over PH airspace and conducting surveillance activities. The US retains exclusive control over these flights and their real purpose is known only to them. They may be conducting surveillance of internal affairs including counter-insurgency. They may be conducting flights to map out sources of mineral wealth for the US corporations. Whatever the purpose, theses all support the US agenda in Asia-Pacific: that of remaining an economic and military superpower," Reyes said.
Bayan said that US has long sought to have control over the China Sea, regardless of the dispute between the Philippine and China. Documents released by Wikileaks have shown that the US as early as 2007 was contemplating the setting up of an elaborate maritime surveillance system whereby the US can monitor all movements in the area. The militant group warned that US virtual basing will soon be complete, having troops stationed in Mindanao, warships in Subic Naval Base and planes in Clark Airbase.
Bayan said that the time will come when it will not be just US spy planes operating in the disputed region, but the entire US 7th fleet; all in the guise of protecting us from China.
"It's quite obvious now that the US is exploiting the dispute with China to be able to increase its military presence in the Philippines and the disputed areas. The claim that US and PH interests in the South China Sea are one and the same is a patent lie, a grand deception in the service of US neo-colonial agenda," Reyes said.
No to rotational troops
"We vehemently oppose the idea of rotational US troops in the Philippines. This is just another ploy to justify US permanent presence and virtual basing in our country, similar to what the US is already doing in Mindanao," Reyes said.
"The 600 US Special Forces in Mindanao are there on a rotational but permanent basis, being stationed in Zamboanga since 2002. They are not visiting forces but permanently stationed troops. Now Mr. Aquino wants this anomaly to continue and expand. They claim to be conducting counter-terror training but are actually there as part of US power projection, US direct military intervention in the Philippines and securing US economic interests such as oil and natural gas," Reyes said.
Bayan also blasted  what is described as "the mendicant foreign policy" of the Aquino government, saying that the PH government has acceded to US military impositions in exchange for second-hand, vintage military hardware. The PH Navy for example admitted that the second Hamilton Class cutter that the PH government will receive from the US will be stripped off its weapons systems. The cutter is a Vietnam War-era ship now decommissioned by the US government, Bayan said. ###