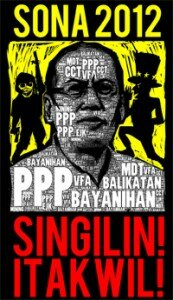 News Release
July 21, 2012
Not even heavy rains will stop protesters from turning out on Monday for the State of the Nation Address of President Benigno Aquino III. Umbrella group Bagong Alyansang Makabayan has called for nationwide protests to coincide with the SONA. Protesters will carry the slogan "Singilin! Itakwil!", to express their opposition to Aquino's first two years in office, under which the economic conditions of the Filipino people have dramatically worsened.
At the Bayan office in Quezon City, artist group UgatLahi and students volunteers are busy finishing the 14-foot tall effigy which will be set aflame during the Monday rally. The effigy depicts Aquino as a two-faced villain, doble-kara, symbolizing the negative effects of his false promises of prosperity. The Aquino effigy will sit atop a bulldozer, to highlight the issues of demolitions in urban poor communities and destructive mining projects in the countryside.
BAYAN also conducted several public fora at the surrounding Commonwealth Avenue, where the protest actions will take place, hoping to involve local communities.
"We'll be marching, rain or shine. The issues of human rights, economic degradation, sovereignty and accountability need to be heard. The true State of the Nation needs to be exposed. The workers, farmers, urban poor, women and youth will make sure of that," said Bayan secretary general Renato M. Reyes, Jr.
The People's SONA mobilization will be joined by contingents from BAYAN's regional chapters, including BAYAN-Southern Tagalog and BAYAN-Central Luzon. Beginning Saturday, their members will be travelling towards Quezon City. They will hold a vigil on Sunday, July 22.
On Monday, protesters will be marching from different points in Quezon City, leading up to Commonwealth Avenue. Bayan asserts that it has gained the legal, political and moral right to march to Batasan Road to hold its protest program. According to Bayan's counsels in the National Union of People's Lawyers, the failure of the Quezon City government to act on Bayan's application for a rally permit within the required period means that the application is deemed approved. NUPL will deploy lawyers for Monday's rally.
"As of Friday, we have received no word, no official communication whatsoever, from the Quezon City government," Reyes said.
Overseas chapters of BAYAN are also preparing for their respective mobilizations. As early as Sunday, July 22, Migrante and Bayan in Hong Kong will be holding an advanced protest action. Various actions will take place in the United States, including New York City, San Francisco, Los Angeles, Seattle, and Chicago. BAYAN chapters in Canada and Europe will also participating, highlighting human rights issues under the Aquino government.
Protesters also promise to have a strong social media presence. Rally participants are encouraged to contribute live updates for SONA mass actions here and abroad using the hashtag #SONAngbayan . These updates will be carried with Twitter and Facebook. The march rally will also be streamed live on the internet.
" In the Philippines and abroad, BAYAN will bring light to the realities that the Philippine government wishes to cover up. In contrast to the growth and progress Aquino is expected to report in his SONA, the people are reeling from poverty, displacement, unemployment, human rights violations and plunder of resources. Ironically, Congress itself is literally surrounded by an ocean of poverty, of urban poor communities that do not feel the supposed inclusive growth being touted by the regime," Reyes said. ###