News Release
July 16, 2012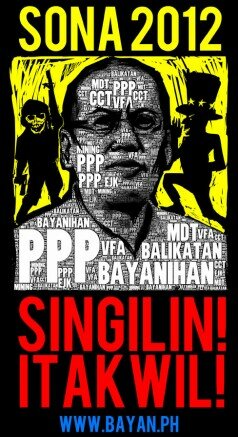 Maniningil ang mamamayan sa darating na SONA.
This was the statement issued by the umbrella group Bagong Alyansang Makabayan as it prepared to launch nationwide protests coinciding with the upcoming State of the Nation Address of PresidentBenigno Aquino III. The group decried many of the unfulfilled promises of the president as well as the worsening economic crisis, human rights violations, violations of national sovereignty and the continuing climate of impunity under the regime.
The group said that it was expecting Aquino to make a big deal out of the so-called 1st quarter economic growth and the impeachment of former Chief Justice Renato Corona. And with no real opposition among the major political parties to counter the president's SONA, it would be mainly up to the people to raise the pressing issues in the streets.
"For all its PR gimmicks and rhetoric, the last two years of the Aquino government has been all about unfulfilled promises amid the worsening conditions of the people. Behind the rosy statistics and claims of growth is a country that is reeling from unemployment, massive overseas migration, poverty, and underdevelopment. Aquino can no longer blame all of the nation's woes to the past regime. The rally on July 23 is meant to make Aquino accountable for the problems brought about by his own regime," said Bayan secretary general Renato M. Reyes, Jr.
"The people are fed up with empty pronouncements and deceptive catchphrases. Aquino has failed to address the nation's problems. He has failed to stop impunity and bring justice to human rights victims. He has toed the line of big business, especially the big foreign mining firms. He has surrendered our sovereignty to US military intervention," Reyes said.
Bayan said that Aquino has employed various "WMDs" or "weapons of mass deception" to conceal poverty and give the illusion of growth. "The multibillion Conditional Cash Transfer scheme is meant to cover up poverty and social inequality, while the Public-Private Partnership deceives people into thinking that economic growth lies in the hands of foreign investors," Reyes said.
The group also said that Aquino's public accountability rhetoric will fall flat given his failure to truly make Gloria Macapagal Arroyo accountable for all her crimes, his failure to arrest fugitive Gen. Jovito Palparan, and his failure to hold accountable his own officials being implicated in various anomalies and irregularities.
Bayan has applied for a rally permit before the Quezon City government, stating its intention of marching towards Batasan Road. Under Batas Pambansa 880, the city government has two days from the filing of the permit to act on the application otherwise it is deemed granted. The law also states that the City Government cannot arbitrarily change the venue of the rally without informing the applicant and providing a hearing.
"The real State of the Nation will not be delivered in the air-conditioned halls of Congress where the President and his allies are gathered. The true state of the nation will be delivered in the streets by the ordinary workers, urban poor, farmers, women and youth. It is ironic that while Aquino will proclaim the greatness of his regime, the people whom he called his bosses will be pushed as far away as far as possilbe from Congress by thousands of riot police," Reyes said.###