News Release
July 1, 2012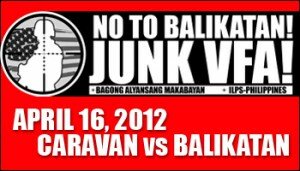 For reference;
Ryan Lariba
Secretary General
General Santos City – Bagong Alyansang Makabayan – SOCSKSARGEN decries the recent harassment by local police of Glan to its members who were conducting a mobile propaganda last June 29 in Brgy. Poblacion, Glan, Sarangani Province to air its opposition to the forthcoming US –PH joint naval exercise to be held in Sarangani on July 2-10.
"While in Glan, the PNP kept on following our members obviously to intimidate them. They were there to inform the people of the real intention of the US behind the Cooperation Afloat Readiness and Training or CARAT 2012 and invite interested individuals to join the caravan that BAYAN will hold on July 4", Ryan Lariba, BAYAN-SOCSKSARGEN secretary general relates.
Lariba also said that the posters their propaganda team hanged were removed intentionally.
"No doubt, this is harassment by the LGU of Glan, who else? In fact no less than Glan mayor himself, Mayor Victor James Yap called up at our office and forewarned us not to push through with our activities. It is sad because while they welcome US Troops they drive away their own countrymen and deny their constituents of alternative ideas or opinions concerning the presence of US troops in the Philippines", Lariba adds.
BAYAN –SOCSKSARGEN and PATRIOTIKO MINDANAO – SOCSKSARGEN have earlier announced that they will hold a protest-caravan to Glan, the host municipality for the CARAT 2012 naval exercise on July 4, in time for the Filipino-American Friendship Day to denounce the continuing presence of US military forces in the Philippines.
"There is no real friendship here, our relationship with US is that of a master-and-slave relation. Whatever they say, the Philippine government follows. This is not all about alms through civic missions, this is all about national sovereignty being desecrated by US and yet they still have the nerve to call us friends", Lariba concludes.#