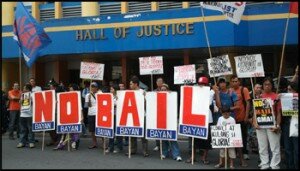 Press Statement
July 17, 2012
Renato Reyes, Jr. BAYAN secretary general
We welcome the filing of plunder charges against former president Gloria Macapagal Arroyo in relation to anomalies in the funds of the Philippine Charity Sweepstakes Office. The charges, which are long overdue, are justified and should be relentlessly pursued.
The Arroyo camp should stop playing the victim act every time charges are filed against the former President. Hindi bagay. Sila ang maraming nabiktima nung panahon nila.
Arroyo should still be charged for other crimes against the people, including the massive cheating in 2004 and gross human rights violations. The filing of charges should not be selective or pegged on important occasions such as Aquino's SONA. There should be consistency and urgency when it comes the filing of cases. Many of the victims of the past regime, especially the human rights victims, have yet to see justice under the current Aquino regime.