News Release
July 21, 2012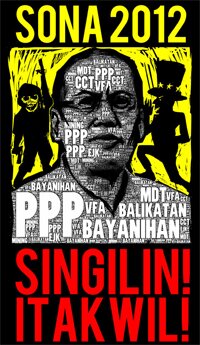 As far as tomorrow's protesters are concerned, the last two years of the Aquino government have been about failed promises of change and increased attacks on the people's rights and livelihood. Umbrella group Bagong Alyansang Makabayan is expected to lead thousands in marches in Manila and all over the Philippines to protest the third State of the Nation Address of Philippine president Benigno Aquino III.
"Like previous SONA's, Aquino's speech this year would be filled with soaring rhetoric but would come up empty on real, meaningful change. For close to an hour, Aquino will try to enthral his allies in Congress with reports on so-called achievements that have little impact on the lives of the people. This includes the supposed 6.4% economic growth, the Corona impeachment and the usual anti-corruption anecdotes," said Bayan secretary general Renato M. Reyes, Jr.
"He will deliberately omit the glaring realities of worsening human rights violations, poverty, unemployment, depressed wages, absence of genuine land reform, demolition of houses, destructive large-scale mining, privatization of social services and the US violations of our sovereignty," Reyes added.
"Congressional allies will heap praises on Aquino, while Aquino will thank Congress for supporting the Corona impeachment. Without any political opposition, the gathering in Congress on Monday might end up as some huge mutual admiration society. Expect big business, including the big mining firms, to hail Aquino's SONA. But the people on the streets; the workers, peasants and urban poor; will flatly reject Aquino's deceptive pronouncements ," Reyes said.
Over the weeks, the prices and rates of oil, electricity and water services have almost simultaneously gone up. After a series of rollbacks, oil prices have increased for two straight weeks, raising the pump price of gasoline by a huge ₱2.55 per liter and diesel by ₱2.40. Power rates charged by Meralco, meanwhile, will go up by ₱0.32 per kilowatt-hour this month. Water rates in Metro Manila and nearby areas will also rise by ₱0.39 per cubic meter to ₱0.89 starting in the third quarter.
Bayan asserts that these price increases were the result of the policies of privatization and deregulation of energy and water, which the current regime has continued to implement. It said that the so-called Conditional Cash Transfer program cannot solve poverty brought about by these policies.
Bayan believes that with the accumulated impact of privatization, deregulation and other anti-poor policies under Aquino, hunger has averaged 20% of families (an estimated 4 million families) during Aquino's two years; while poverty has averaged more than 50% (an estimated 10 million families), citing data from the Social Weather Stations (SWS) surveys.
Marches, effigy
For this year's march, artist collective UgatLahi has constructed 14-foot tall effigy which will be set aflame during the Monday rally. The effigy depicts Aquino as a two-faced villain, or "doble-kara". The Aquino effigy will sit atop a bulldozer, to highlight the issues of demolitions in urban poor communities and destructive mining projects in the countryside.
Rights group Karapatan will be marching while wearing 99 masks, to represent the victims of extrajudicial killings under the Aquino regime. Bayan Southern Tagalog will feature an Aquino effigy on top of a US aircraft carrier to depict the increased US military presence in the Philippines.
The People's SONA mobilization will be joined by contingents from BAYAN's regional chapters, including BAYAN-Southern Tagalog and BAYAN-Central Luzon. They will be camped out near the Commonwealth Avenue as early as Sunday.
On Monday, protesters will be marching from different points in Quezon City, leading up to Commonwealth Avenue. Bayan asserts that it has gained the legal, political and moral right to march to Batasan Road to hold its protest program. According to Bayan's counsels in the National Union of People's Lawyers, the failure of the Quezon City government to act on Bayan's application for a rally permit within the required period means that the application is deemed approved. NUPL will deploy lawyers for Monday's rally.
Protesters also promise to have a strong social media presence. Rally participants are encouraged to contribute live updates for SONA mass actions here and abroad using the hashtag #SONAngbayan . These updates will be carried with Twitter and Facebook. The march rally will also be streamed live on the internet. ###