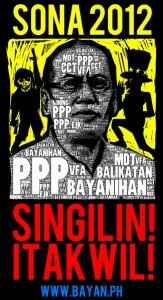 Press Statement
July 17, 2012
Renato Reyes, Jr. BAYAN secretary general
Spin-doctors of the US and Philippine governments keep telling us that the high-level visits by US defense officials are intended to boost our military capability against incursions by China.
This however may be far from the truth. The US has no real intention of modernizing our armed forces as the US government has consistently given us excess defense articles or second hand equipment. We have not modernized as a result of our dependence on the US.
The real intention of these high-level visits, including the most recent one by the chief of the US Pacific Command, is to make arrangements for the rebalancing of US troops towards Asia. The US plans to bring 60% of their warships to the region in the next ten years. The US also wants to make full use of their former bases in Subic and Clark. The US also plans on maintaining a rotational force in the Philippines, permanently based and in direct violation of the PH Constitution.
The US may also be seeking updates on the ratification of the SOFA with Australia, a junior partner of the US in the region.
The China dispute is just being used by the US as a leverage to allow increased US military presence in the region. The US makes good use of photo-ops between its officials and the PH government to project a seemingly strong alliance. However, the US has no intention of going to war with China over the PH government's Spratlys claim. The US has far greater economic interests at stake in China than in the territorial dispute involving the Philippines. Make no mistake, the US is only after its own interests. US and PH interests are not one and the same. ###