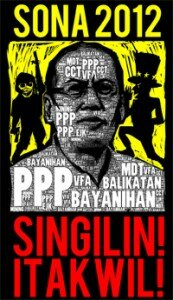 News Release
August 30, 2012
The umbrella group Bagong Alyansang Makabayan joined human rights group Karapatan today in Plaza Miranda to mark International Day of the Disappeared. The groups assailed the Aquino regime for its failure to go after the perpetrators of enforced disappearances.
"Today we march to demand justice for Jonas Burgos, Sherlyn Cadapan, Karen Empeno, Luisa Dominado and the many victims of enforced disappearances who remain missing to this day. Enforced disappearance is such a heinous crime which tortures the families of the victims who continue to search for their loved ones," said Bayan secretary general Renato M. Reyes, Jr.
"Injustice prevails with the failure of the government to hold accountable the perpetrators of this heinous crime. The fugitive general Jovito Palparan, who is believed to be responsible for the abduction and torture UP students Cadapan and Empeno, remains at large and has mocked the entire justice system," Reyes added.
The International Day of the Disappeared traces its origins from the Latin American Federation of Associations for Relatives of Detained-Disappeared. Protest actions in the Philippines started in 2007 at the height of the abductions of activists under the regime of Gloria Macapagal Arroyo.
In 2011, the Philippine Senate passed its version of a bill criminalizing enforced disappearances. In March 2012, the Philippine Lower House passed its version of a similar bill criminalizing enforced disappearances. The two versions are supposed to be reconciled in a bicameral meeting of both Houses of Congress before being signed by the President.
The practice of enforced disappearances was also prevalent during the Marcos dictatorship when the country was under Martial Law. Incidentally, 2012 marks the 40th anniversary of the declaration of Martial Law. The families of the victims of enforced disappearances during the Marcos dictatorship continue to press for justice and indemnification from the Philippine State, four decades after Martial Law was declared.
"Human rights is not really a priority of this regime, hardly meriting any mention even during the State of the Nation Addresses. The Aquino government's failure to arrest Palparan is a continuing reminder of the injustice the victims continue to experience. Palparan is believed to be still influential in the partylsit group BANTAY which he is the head and where his wife is the first nominee. This group is seeking a post under the partylist system in the upcoming 2013 elections," Reyes said .
In May 2012, rights group Karapatan noted that there were already 9 victims of enforced disappearances under the Aquino regime. The group blames the government's counter-insurgency program Oplan Bayanihan for the continuing rights abuses, which include extrajudicial killings and torture. The Philippine human rights record was subjected to scrutiny by the United Nations during the recent Universal Periodic Review held in Geneva, Switzerland last May. May countries expressed dismay that the Philippines has not lived up to its pledge of eliminating enforced disappearances and bringing to justice those responsible.  ###