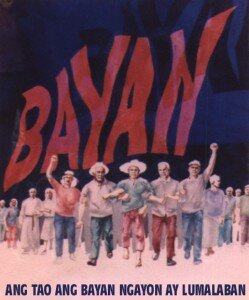 News release
September 24, 2012
Multisectoral group Bagong Alyansang Makabayan (Bayan) today asked Makati City mayor Jejomar Erwin Binay Jr. to immediately stop the forcible eviction of urban poor residents along Guatemala St. in the city's Barangay San Isidro. Bayan called on Mayor Binay to honor the earlier commitment of the city government that it will not resort to violent demolition and instead engage the residents in peaceful dialogue.
The group stressed that since no private interest is involved in the issue, it should be easier for the local government to reconsider its planned demolition based on humanitarian grounds and respect for the basic human right to shelter and livelihood of the residents. It also said that Malacañang and the Department of Interior and Local Government (DILG) should intervene and halt the demolition.
"Especially since the property in question is public, it should be uncomplicated for Mayor Binay and the national government to uphold the bigger public interest, in this case the people's basic right to shelter and livelihood, than the plan of the city government to build a multi-purpose hall and basketball court," Bayan secretary-general Renato Reyes said.
Bayan argued that the people have the right to resist the demolition despite the supposed relocation offers by city officials, especially given the grim track record of government relocation programs that are often hampered by the lack of basic services and sustainable sources of income.
"It defies reason and justice that the city government insists on evicting the residents when the affected families have repeatedly rejected the relocation proposals and financial assistance offered to them. The residents are not simply importunate; it only means that they find the options made available to them unacceptable. For instance, the main source of livelihood of many of the affected residents is vending. Did the city government offer them an alternative source of income in the relocation site?" asked Reyes.
Bayan said that the urban poor have been forced to migrate to the cities due to the absence of livelihood opportunities in the provinces. "Forcing them to leave through violence is a further injustice," Reyes said. ###