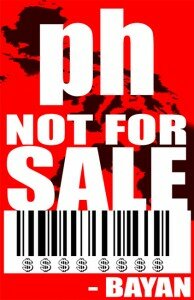 News Release
September 20, 2012
The recent clash between Senate President Juan Ponce Enrile and Senator Antonio Trillanes IV show that Malacanang may not have been truthful to the public on the issue of China.
Enrile's tirade against Trillanes, based on alleged notes from Philippine ambassador to China Sonia Brady, revealed differences between Foreign Affairs Secretary Alberto del Rosario and Trillanes who was supposedly named by Aquino as a special envoy for backchannel talks with China. The differences stemmed from how the Philippines should handle the tension at Panatag Shoal.
Bayan said that it found most disturbing Trillanes claim that DFA secretary del Rosario wanted to involved the United States in the dispute with China, a move which would certainly escalate tensions.
"There is a lot more here than meets the eye. On one hand you have Malacanang talking tough on China but intent on involving a third party, the US, in the dispute. On the other hand, Malacanang admits dispatching a backchannel negotiator to China to smoothen relations. Trillanes' allegations versus the DFA should be looked into, regardless of what happens to the tiff between the neophyte senator and the Senate President," said Bayan secretary general Renato M. Reyes, Jr.
"Trillanes should disclose why he thinks del Rosario is trying to bring the United States into the dispute What is his basis for saying so? And if so, was del Rosario acting on orders from someone else? We have always believed that the involvement of the US and their plans to set up military facilities in the Philippines continue to complicate the dispute with China," Reyes added.
"And if the Philippine president knew of Trillanes' allegations against del Rosario, what did the President do? Or was this matter covered up again ala-DILG?"  he added.
Bayan also asked how much of Philippine foreign policy is actually influenced by vested business interests. For example, Del Rosario has been accused of acting on behalf of businessman Manny Pangilinan who controls Forum Energy, the consortium that owns the exploratory rights to  the Recto Bank off Palawan, which is believed may have the country's largest gas reserves and part of the territory claimed by China.
Del Rosario is being accused of using the dispute with China as a leverage to cut a favorable deal with state-run China National Offshore Oil Corp (CNOOC). Del Rosario used to sit on the board of Philex Mining and Forum Energy before his stint at the DFA.
"It is interesting that the name of businessman Manny Pangilinan has been mentioned in relation to the dispute. Also interesting are allegations by Trillanes, based on Brady's notes, that Pangilinan paid a lobby group during the historic 'two plus two' meeting between the US and Philippines in Washington this year. How much of our foreign policy is influenced by these big business interests? These business interests are certainly not synonymous to national interests," Reyes said. ###