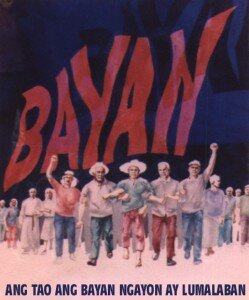 News Release
September 12, 2012
The umbrella group Bagong Alyansang Makabayan today assailed reports that of a transfer of post for resigned Department of Interior and Local Government undersecretary Rico Puno. In a TV interview, Puno said that the president offered him a "nice, quiet job" after his controversial stint at the DILG.
Puno resigned from his post on September 11, ahead of a scheduled Senate inquiry into his alleged involvement in anomalies in the DILG.
"The president's insistence on keeping Puno in government, despite the controversies, pre-empts any meaningful investigation from taking place. It's as if Puno has been absolved from any wrongdoing, even before the results of the investigations have come out. Puno's reappointment virtually exculpates him," said Bayan secretary general Renato M. Reyes, Jr.
""Mr. Puno's resignation and eventual transfer of position merely strengthens the perception that friends and shooting buddies of the president are treated with kid gloves. It really sends the wrong message. This is definitely not the daang matuwid earlier claimed by the Aquino government," he added.
Bayan said that what's equally disturbing is Puno's openness to the President's offer of a "nice, quiet job" in government.
Lies compounded
The group also said that the apparent lies regarding Puno's visit to fomer DILG secretary Jesse Robredo's residence has been exposed in the media. "People are starting to see through the lies and inconsistencies in Malacanang's statement that Puno was acting upon orders by the President. To use a street term, 'inarbor' ng Pangulo ang barkada nyang si Puno. Aquino made Puno's action appear perfectly regular while everyone believed otherwise," Reyes said.
"Mr. Puno has too much baggage and is now the subject of a Senate inquiry. It would be best if he is kept out of government. Malacanang's defense of Puno has become untenable at this point. Lying is never an acceptable thing for top government officials, most especially the President," Reyes said.
Puno is facing allegations of involvement in an alleged overpriced arms deal. Many have also questioned his actions in relation to the residence of former DILG secretary Jesse Robredo.  ###