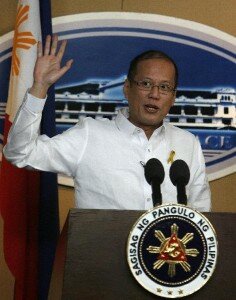 News Release
October 27, 2012
The Bagong Alyansang Makabayan today accused Akbayan of receiving funds from the landlords of Hacienda Luisita, saying that a group that gets blood-tainted money cannot be expected to represent the marginalized.
Aside from the Aquino siblings Kris Aquino, Balsy Cruz, Viel Dee and brother-in-law Richard Dee, Akbayan also received funds from Rafael Lopa, Christina Lopa, Jaime Lopa and Anna Lopez, whose family is a major shareholder in Hacienda Luisita Incorporated, according to the group's report to Comelec. The Lopas are also cousins of President Benigno Aquino III.
"Akbayan doesn't seem to mind receiving funds from the big landlords of Hacienda Luisita. It doesn't mind receiving blood-tainted campaign donations. So much for their claim of representing the marginalized. As we've said before, this group is now beholden to President Aquino," said Bayan secretary general Renato M. Reyes, Jr.
Bayan slammed Malacanang for "defending to death" Akbayan's bid to participate in the 2013 elections despite valid questions regarding eligibility.
"Presidential talking-head Edwin Lacierda has asked that the Palace be kept out of the so-called 'rivalry' between partylist groups, yet his principal, President Benigno Aquino has now joined the fray. No less than Aquino is defending Akbayan.
Having a hundred million peso war chest and having Malacanang defend this, all these undermine Akbayan's claim of being marginalized," Reyes said.
"Akbayan is no more a representative of the marginalized than Aquino is a representative of the Hacienda Luisita farmers," he added.
Bayan said that a Comelec probe into the campaing funds of Akbayan is relevant since some of the funds were used to circumvent the law in relation to airtime by candidates in the 2010 elections. Aquino used Akbayan to circumvent the cap on airtime for individual candidates by making it appear that the Aquino TV ads were Akbayan ads.
Disqualification bid

Bayan also scored the disqualification bid against progressive partylist groups Bayan Muna, Anakpawis, Gabriela, Kabataan and ACT Teachers is "recycled from the Jovito Palparan playbook on red-tagging".
"Groups allied with Akbayan are reviving allegations that have already been addressed in the past at the level of Comelec. They have become desperate because Akbayan can no longer answer convincingly the allegations that it is no longer marginalized, that its nominees and officials are not marginalized. Now they resort to red-tagging," Reyes said.
"While toally untrue, these allegations are dangerous because they open up members of these partylist groups to attacks by the AFP.
It is the same thing that Palparan did when he was still active in the AFP. HE would label these partylist groups as front organizations which would then be a signal to the military to carry out attacks. Akbayan is wittingly aiding the perpetrators of human rights violations" Reyes added. ###