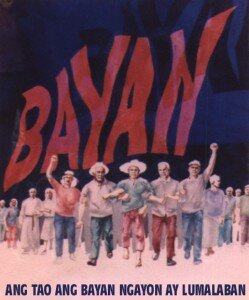 Press Statement
November 16, 2012
We in the Bagong Alyansang Makabayan, our member organizations and formations in the Philippines and other parts of the world, stand in solidarity with the people of Gaza against the brutal airstrikes being undertaken by Israel. The attacks, no doubt, have the support of the United States and other imperialist powers. Israel, the US and UK put the onus on Hamas and the Palestinians, despite the deadly bombings on civilians being conducted by Israel.
We call for a stop to the Israeli airstrikes. We strongly oppose any escalation of the Israeli offensives which include the possibility of a ground invasion. The Palestinian people have been living under the brutal Israeli occupation of their lands for more than  six decades now. The occupation is supported primarily by the US,  which provides  Israel with weapons and other forms of aid. The US also remains Israel's most reliable ally and enforcer in the UN Security Council. Israel remains a vital cog in the plans of the US to impose its will on the Middle East.
Israel goes on to justify its military action dubbed "Pillar of Defense" with the allegation that Gaza is a forward base of Iran and that Hamas weapons pose a threat. However, it should also be noted that the attacks come just before the Israeli elections on January 22 where current prime minister Benjamin Netanyahu is seeking re-election. It should also be noted that Israel has long-prepared for such an invasion, raising the possibility of another ground assault  as early as February this year, because of the supposed "great success" of a similar offensive started in late 2008. Operation Cast Lead in 2008 resulted in the death of 1,400 Palestinians.
Israel also taken its war vs. Palestinians to the internet and social media, posting arrogant tweets and videos that celebrate the assassination of Hamas leader Ahmed Jahbari and live-tweeting the airstrikes conducted against the Palestinians. On the other hand, Israel  has threatened to cut internet and other communications in Gaza to prevent the world from the knowing Israeli atrocities.
Bayan stands with Gaza, the Palestinian people and the peoples of the world who are condemning the Israeli airstrikes. The path to genuine peace in the Middle East must include a free Palestine.  The road genuine peace will require the defeat of US imperialism, in the Middle East and the world.
Free Palestine!
Stop the US-backed Israeli airstrikes!