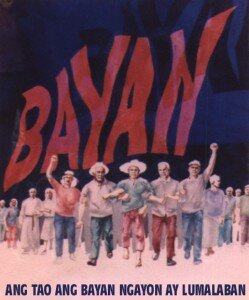 News Release
February 27, 2013
The umbrella group Bagong Alyansang Makabayan today placed its support behind the Pablo victims protesting government inaction over relief and rehabilitation efforts in the storm-ravaged areas of Compostela Valley and Davao Oriental. The protesters yesterday broke into the Region XI office of the Department of Social Work and Development and in an organized way, took possession of relief goods.
The protest was triggered by the DSWD's failure to honor a previous commitment of providing 10,000 sacks of rice after Pablo victims barricaded a high-way to Davao City.
"The reaction of the DSWD and its secretary Dinky Soliman is utterly appalling. Instead of squarely addressing the protesters demands, Soliman has resorted to all sorts of diversionary tactics, even to the point of questioning whether the protesters were indeed typhoon Pablo victims. This is grossly insensitive," said Bayan secretary general Renato M. Reyes, Jr.
"For the DSWD, the burden of proof lies with the victims. After all this time, the victims still have to prove that they are the victims. They have to prove that they deserve to be served. The DSWD imposes so many requirements and preconditions for the distribution of the 10,000 sacks of rice, subjecting the Pablo victims to various indignities and difficulties," Reyes added.
According to a statement posted on the DSWD website, the conditions for distribution include the list indicating the name and address of recipients; listing of the names of responsible person who shall guarantee the  safe distribution; distribution to be witnessed by DSWD and Provincial/Municipal LGU representatives; release of rice to be done at the Typhoon Pablo Relief Operations Center at the DPWH Depot in Panacan, Davao City; acknowledgment that relief goods came from the government; distribution report consistent with the actual distribution; and storage of rice must follow safety standards.
"What happened yesterday at the DSWD office was the organized and determined assertion of people power by the Pablo victims. Some quarters describe it as looting or ransacking, but if you look at the videos and pictures, what protesters did was the organized seizure of goods. It was not a case of every-man-for-himself-grab-what-you-can-and-run. The seized goods were later centralized for proper distribution," Reyes said.
Bayan also assailed the DSWD for portraying the protesters as mere pawns, after Soliman claimed that the they were not all Pablo victims and that they were either incited or misled into joining yesterday's action.
"For a DSWD secretary, Soliman seems to have a very low regard for poor people . She thinks they're just pawns easily manipulated by interest groups. With this unfair portrayal, the Pablo victims are victimized twice over," Reyes said.
"It is not a question of HOW the hungry protesters were able to travel to Davao City. Instead, Dinky should be asking WHY the protesters needed to travel so far, and WHY the relief goods were positioned so far from those who are in need," Reyes added.
The group also believes that allegations of corruption may have also added to the anger Pablo victims. A former DSWD employee, June Sanchez-Obenza, filed a complaint against DSWD Region XI officials for fraudulent food-for-work-program disbursements and overpriced bunkhouses. ###