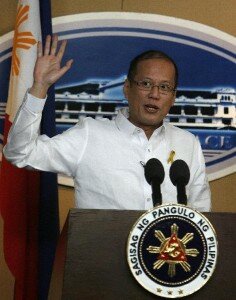 News Release
March 11, 2013
The umbrella group Bagong Alyansang Makabayan today condemned the Malacanang's "weak response" to the Sabah crisis which saw the forced displacement of hundreds of Filipinos amid reports of abuses.
"Amid the disturbing reports of abuses by Malaysian security forces against Filipinos, the Philippine government has still not raised a howl of protest. The Aquino government has not been indignant in the face of the violations of the rights of our countrymen. All the Department of Foreign Affairs has expressed is 'grave concern' which doesn't amount to much at this point. And the President is still nowhere to be seen," said Bayan secretary general Renato M. Reyes, Jr.
"The latest incidents of abuses are the results of the skewed Sabah policy of the Aquino government. The PH president had earlier undermined the country's own claims to Sabah when the Lahad Datu incident began. Aquino practically lent support to the Malaysian offensive. Now we are faced with a humanitarian crisis that will worsen daily if there is no strong government intervention," Reyes said.
Survivors of the crackdown have said that they were treated like animals by Malaysian security forces. Men were rounded up. Some were summarily executed or shot at, according to reports. Filipinos are also reportedly being held by Malaysian police.
The Philippine DFA has said in a statement that it is working with the Department of Social Work and Development in documenting cases of abuses from the displaced Filipinos.
Bayan reiterated its condemnation of the actions of the Malaysian government, saying that the crackdown on Filipino civilians has resulted in widespread rights violations.
"Malaysia should immediately stop the crackdown that has targeted Filipino civilians and threatens to displace thousands more. The Malaysian government should immediately allow PH authorities to gain access to Filipino nationals in the communities and in the detention facilities," Reyes said.
"Aquino should immediately call his Malaysian counterpart and seek a stop to the rampaging Malaysian security thugs," he added.
Bayan said that it will protest the Malaysian crackdown on Filipinos. The group also expressed support for Filipinos in Sabah who are resisting the Malaysian crackdown.