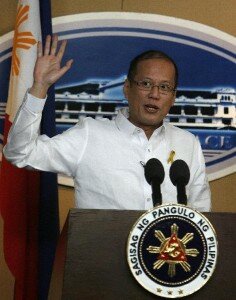 News Release
May 1, 2013
It is his third Labor Day as Philippine President yet the meaning of the holiday is still lost on Benigno Aquino III, according to the umbrella group Bagong Alyansang Makabayan. At a meeting with some labor groups yesterday, Aquino pitched that instead of holding protests, workers should instead celebrate and credit the positive things government has done.
"Aquino still doesn't get it. Labor Day is held just once a year. It is a time when workers air their demands and grievances, many of which have been ignored by this and all previous regimes. It's called Labor Day, Mr. President, not 'cheer the government day'. You want workers to give your government a pat on the back, when in fact it should be your government trying  to address the demands of the workers," said Bayan secretary general Renato M. Reyes, Jr.
"With his speech yesterday, Aquino merely showed that his real concern is the image of the government and not the plight of the workers. He rejects any meaningful wage hike and job security because according to his math, these will destroy the economy. He opposes tax exemptions for workers because this will reduce government revenues and affect our credit ratings. Now he wants an increase in social security contributions so that workers will carry the SSS debt burden," Reyes said.
Bayan said that workers have every reason to take to the streets and fight for their demands. It cited poverty and the erosion of the standard of living, trade union repression, demolition of urban poor communities and the privatization of government services as among the pressing issues faced by workers today.
"Aquino shows that he doesn't care about the workers. His approach is no different from the previous regime of GMA. He offers non-wage benefits and job fairs as if these are enough to meet the rising cost of living. It's a big irony since there's this talk of the Philippines being a rising tiger yet all it can give the workers is a pittance," Reyes said.
"Today's protests and marches will certainly dispute Aquino's claims of inclusive growth. The protests will dispel claims of a growing economy," he added.
The group also called on politicians to take the side of the workers especially on important legislative measures such as an across the board wage increase. "Just how many of these candidates have taken the side of the workers, in words and in deeds? The political landscape is so dominated by representatives of big business interests it has become increasingly hard to expect meaningful legislation benefiting the workers," Reyes said.
"Even now, huge campaign spending will tie the fortunes of the candidates and big business. How is it possible that those spending big are not beholden to their campaign donors from big business?" he added.