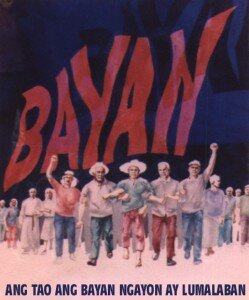 Press Statement
April 23, 2013
Bayan is deeply saddened by the shooting incident involving a New People's Army unit in Misamis Oriental and the convoy of Gingoog Mayor Ruth Guingona. We offer our solidarity with the Guingona family during this difficult time.
It is right that the NPA assumed responsibility for the action,  apologized for the deaths and injuries of civilians, and offered indemnification to their families. Complaints by the aggrieved parties can be brought directly to the National Democratic Front of the Philippines through the GPH-NDFP Joint Monitoring Committee on the Comprehensive Agreement for Respect for Human Rights and International Humanitarian Law. Mechanisms are in place to ensure that there would be a proper investigation and that there would be accountability for the NPA actions.
We agree with Senator Teofisto Guingona III when he said that the incident in Gingoog again underscores the need to resume formal peace talks between the Government of the Republic of the Philippines and the National Democratic Front of the Philippines.
Indeed, rather than making a general statement on "dismantling NPA checkpoints", the Aquino regime should be more concerned in addressing the root causes of the armed conflict so that a just and lasting peace can be attained. The Aquino government has previously placed many obstacles to the resumption of the peace talks, including the refusal to honor previous agreements such as the Hague Joint Declaration and the Joint Agreement on Safety and Immunity Guarantees (JASIG). Even the supposedly faster "special track" for the peace negotiations is not moving due to government disinterest.
It is not surprising too that the Armed Forces of the Philippines says that the NPA checkpoint was done because of the alleged refusal of Mayor Guingona to pay campaign fees to the NPA. This is meant to make the incident appear as a case of plain extortion, detached from the bigger picture which is the ongoing civil war and the stalled peace negotiations between the GPH and  NDFP.  The AFP should top using the incident to draw attention away from the many unresolved human rights violations linked to the military, such as the abduction of Jonas Burgos, Karen Empeno and Sherlyn Cadapan and the murder of labor leader Rolando Olalia and his driver Leonor Alay-ay. ###