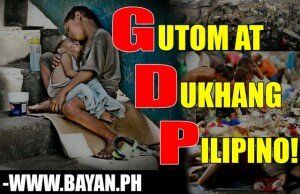 News Release
June 12, 2013
On the occasion of Independence Day, the umbrella group Bagong Alyansang Makabayan  today assailed what it described as "sham independence, and sham economic growth" under the Aquino administration.  Various groups gathered at the Bonifacio monument in Tutuban for a cultural program and protest. The year 2013 also marks the 150th birth anniversary of revolutionary leader Andres Bonifacio who fought against Spanish colonial rule.
The Bayan statement came after government data showed that unemployment is at a 3-year high despite claims of a 7.8% GDP growth for the first quarter of 2013.
"Under the Aquino regime, we have a lethal combination of sham independence and sham development. Despite the repeated claims of economic growth, our people remain mired in crisis. The chronic joblessness is just one of the problems created by our lack of economic sovereignty," said Bayan secretary general Renato M. Reyes, Jr.
"Our economy is still controlled by and in the service of foreign big business and their local partners. Economic activity is geared towards meeting international demands rather than meeting domestic requirements for genuine development. Job creation is dictated by external factors. Our country cannot be truly free when its people are under the bondage of poverty and underdevelopment arising from foreign dictates," he added.
Bayan said that for the Philippines to truly develop, it must strive to achieve the necessary factors for growth such as national industrialization and land reform. It must also uphold economic sovereignty and shun foreign dictates such as the neo-liberal economic policies adhered to by the Aquino government.
"Aquino should stop blaming it on the weather because the dire economic situation remains his regime's responsibility. This one is on him. Three years of the foreign-dictated conditional cash transfer, export-oriented growth, labor export policy and the neo-liberal Public Private Partnership have resulted in more poverty and more unemployment," Reyes said.
"The president, in his desperate bid to salvage the luster of his claims of economic growth, has gone the way of the absurd," he added.
Aquino has cited what he calls a "weather-dictated delay in this year's planting season" as the cause for the "temporary" job loss.
Defense capability
Bayan also assailed the Philippine government for its "perpetual dependence" on US military aid that come in the form of second-hand weapons and equipment.
"The reason why the Philippines cannot defend its territorial integrity, and why we have no credible minimum defense posture, is because our government has been dependent on the US for the last half-century. Even in military matters, we continue to be dictated on by the US. This, along with the absence of economic development, has prevented the country from effectively building the capacity for external defense," Reyes said.
"The supposed new ship of the Philippine Navy, a refurbished Hamilton class cutter, hails from the Vietnam War era. It is a naval hand-me down meant to show the supposed benefits of a lopsided Mutual Defense Treaty with the US," he added.  ###