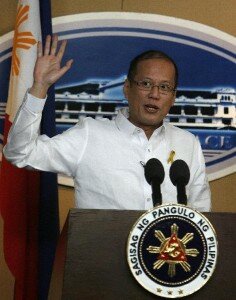 News Release
July 31, 2013
The umbrella group Bagong Alyansang Makabayan today branded the Aquino government's anti-corruption drive as "sheer hypocrisy" after it defended the continued use of the Priority Development Assistance Fund, commonly known as the pork barrel. Malacanang said that the PDAF had good intentions and was needed for the delivery of services to provinces.
Bayan secretary general Renato M. Reyes, Jr. said that the pork barrel system cannot be reformed because it is part of and reinforces the systemic corruption in the bureaucracy. "The calls to abolish the pork barrel system are growing louder as more and more lawmakers are exposed as being involved in ghost projects and deliveries. Malacanang continues to make excuses about the need to retain this rotten system, thus exposing Aquino as the ultimate hypocrite when it comes to fighting corruption," he said.
"Only the politically naïve or the consciously deceptive will say that the PDAF system can be reformed. If Malacanang truly wants to serve the poor, it should increase the budget for hospitals, schools, housing and other social services and ensure that these services become accessible to the most number of people. Pork barrel has become not only a source of corruption but also a convenient excuse for government's failure to deliver services," Reyes said.
Bayan said that Malacanang is using both political patronage and systemic corruption to keep its influence over Congress. "In a sense, this regime is no different from the Arroyo regime in its defense of congressional pork and use of political patronage. This trend may intensify as Aquino enters his last years in office as he tries to avoid being a lame duck president," Reyes added.
"It may be unthinkable for lawmakers to give up pork now, not when the 2016 presidential elections are so near. Some may already be building their electoral war chest this early. So any talk of reforming the PDAF and preventing lawmakers from dipping their hands into congressional pork would simply be foolish. The only alternative is to abolish it," he added.
Bayan also noted that people are scandalized by the lavish lifestyle of the Napoles family amid allegations that Janet Lim Napoles orchestrated the PDAF scam which reached as much as P10 billion. The group however called on critics to direct their anger at the politicians in power.
"It's already expected that people will raise hell against the lavish lifestyle of Janet's daughter, Jeane Lim Napoles, who seems to be a beneficiary of the PDAF scam. But our greatest indignation should still be directed at those in power who continue to defend the rotten pork barrel system, to the proponents of the P27B PDAF in next year's national budget, and to that one president who continues to deceive people with anti-corruption rhetoric while condoning systemic corruption," Reyes said.
Bayan noted that just over a week after Aquino's fourth State of the Nation Address, the regime is already hounded by several corruption controversies involving Congress, the Bureau of Customs , Department of Agriculture and the Department of Transportation and Communications.
"All that talk about change during his SONA just went up in a puff of smoke. The truth is coming out that this regime is fundamentally the same as previous regimes," Reyes said. ###