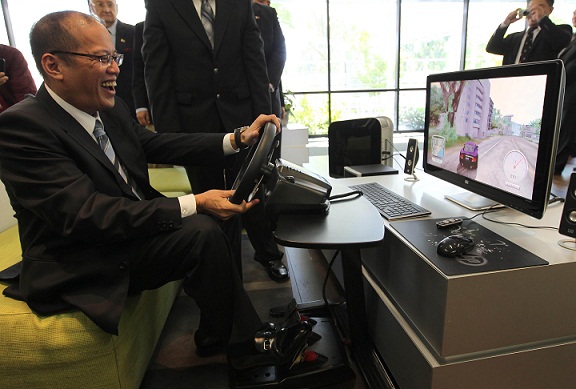 News Release
July 3, 2013
The umbrella group Bagong Alyansang Makabayan today assailed President Benigno Aquino III for defending the proposed access arrangements for US and Japan troops using Philippine facilities. The group said that Aquino is "escalating tensions"  in the region based on the "false assumption that the US will automatically help the Philippines in any conflict".
"The President must realize that crafting foreign policy is not like playing a video game where you can reset and restart after your character blows up. There is not reset button. The president continues to escalate tensions in the region by allowing US intervention, based on the erroneous assumption that the US is out to help us. Aquino is not upholding national interest because he's giving China another reason to also escalate its activities," said Bayan secretary general Renato M. Reyes, Jr.
"In defending the access arrangements for foreign troops, the President presents no new basis, no compelling nor coherent reason. He merely cites the need to conduct joint exercises and uses the word 'interoperability' with foreign troops as some catch-all justification without even explaining why. He makes it appear that access arrangements are but natural, without considering the full implications of such an arrangement. He ignores incidents like the Tubbataha grounding which up to now remains unresolved and our nearly half-century experience of abuses while hosting US bases," he added.
The group said that Aquino was either naïve or lying when he says US presence will not be permanent. Bayan said that the current Visiting Forces Agreement does not provide any actual limit on the duration of stay of the US troops. "The US can easily circumvent our Constitution by rotating its forces, making it appear that a contingent is on PH soil temporarily, but the net effect would still be a permanent and continuing presence, 24/7, 365 days a year. Someone should tell the president this has already been done in Zamboanga since 2002," Reyes said.
Bayan said that after hosting US bases for nearly half a century, the Armed Forces of the Philippines still was not able to modernize. What happened it said was that the Philippines was used as a staging ground for US wars in countries like Vietnam and Korea, as well as in Iraq during the first Gulf War. The group said access arrangements will be no different as this is taking place under the US pivot towards Asia.
"The assertions of Aquino and Defense Secretary Gazmin that US exercises will make us better prepared for conflict has no factual basis. We have been a treaty partner of the US for more than 60 years yet our armed forces have not modernized or developed. Why? Because it is in the interest of the US to keep our armed forces underdeveloped and backward so that the US can leverage this when making demands such as the use of our facilities," Reyes said.
Bayan also questioned Aquino's inclusion of Japan as among those countries to be given access to Philippine bases, saying that the Philippines has not existing military agreement with the nation. "We have not treaty with Japan so why is Aquino offering access arrangements for their troops?" the group said.
"We should all ask why the US is seeking greater access to our facilities. It is not because they are interested in securing our national interest. It's because they are out to promote their own imperialist interests in the region as part of the US pivot to Asia. We should all disabuse ourselves from the notion that US and PH interests are identical," Reyes said.
"What Aquino is showing is mendicancy in terms of foreign policy. He should stop toying with national interest and national sovereignty," he added. ###