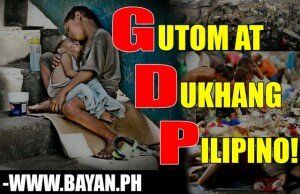 News Release
August 2, 2013
The release of the list of Forbes richest Filipinos again highlights the widening gap between the rich and poor in the Philippines. It belies any claim of inclusive growth.
In the 2013 list, the 40 richest Filipinos had a combined wealth of $64.24 billion, up by $16.8 billion from the previous $47.43 billion in 2012. Their current combined wealth is nearly double the amount in 2011 which was at $34 billion. Their wealth increased by 89% from 2011 to 2013. In 2013, the combined wealth of the 50 richest Filipinos is estimated to be more than 25% of the country's Gross Domestic Product. In 2011 there were 11 Filipinos in the Billionaires Club. In 2013, there are now 17 Pinoy billionaires.
Meanwhile, the NSCB reported that the income growth for the middle and lower classes was only between 4-8% in 2011. The claims of inclusive growth made by President Benigno Aquino III during his last State of the Nation Address are hollow and are belied by facts.
The persons included in the Forbes list own companies that control every aspect of the Filipino's life; from food and beverage, water, energy, transportation, communication, real estate, infrastructure such as roads and ports, and even entertainment. These are the same companies lining up to take advantage of lucrative contracts under the government's Public-Private Partnership program. Their mind-boggling wealth comes into stark contrast with the worsening poverty and unemployment of many Filipinos.
There can be no inclusive growth so long as the entire economy is controlled by a few. Aquino has done little to even bridge the gap between rich and poor, let alone change the economy's orientation. The regime has consistently favored the few Forbes billionaires while further marginalizing the poor. Aquino now wants to enrich these Forbes billionaires even more by giving them various perks for the PPP projects including profit guarantees and tariff increases. ###