News Release
July 17, 2011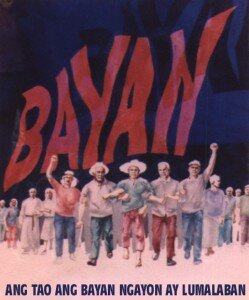 The umbrella group Bagong Alyansang Makabayan said that this year's State of the Nation Address security preparations and deployment are turning out to be overkill.  Yesterday, the National Capital Region Police Office (NCRPO) said that it would be deploying 7,000 policemen on July 25 for the SONA. The PNP also conducted crowd dispersal exercises yesterday in Luneta.
"The security preparations are reminiscent of the time of Gloria Arroyo. It's still the same tact of keeping people as far as away from Batasang Pambansa as possible. For someone who says the people are his boss, Aquino sure takes a lot of effort preventing the people from being heard. If he's as popular and secure as he claims, why surround himself on SONA with thousands of police and soldiers?" said Bayan secretary general Renato M. Reyes, Jr.
"The massive police deployment and even the police rehearsals for dispersing protesters are creating the mindset that there will be violence and chaos on July 25. It's part of the government's psywar scheme to dissuade people from joining protests to air their grievances," he added.
Bayan said that as far as it is concerned, the planned protest action on July 25 will be generally peaceful. To prove this, the group applied for a rally permit with the Quezon City government. It said that it planned to march to Batasan Road, near the Batasang Pambansa. It said that under the law, and based on recent Supreme Court rulings, a city government can only deny or modify a permit if it can show proof that the rally poses a clear and present danger to public safety, public health and public morals
Also, the City Government has two days to act on the application otherwise it is deemed granted. The two days will expire on Tuesday, July 19. This will give protesters added legal ground for marching to their destination. The group urged QC Mayor Herbert Bautista to act on the application within the time required by the law.
"Government should not be paranoid. It should let the people assembly peacefully and deliver their own state of the nation address as near as possible to Batasan. That is the people's political statement," Reyes said.
The group also said that it won't be surprised if the Aquino government will use the recent incident involving Col. Generoso Mariano as another justification for further tightening security for SONA.
Mariano should be given chance to explain
Bayan said that it was too early to tell what Mariano's motives are for coming out, or what group he is affiliated with, if any.  "It appears that he was merely voicing out his frustrations over the lack of genuine change. From what he saw in the video, he did not call for the violent overthrow of the government. All he said was that the people have the right to replace a government that does not address their needs," Reyes said.
"He should at least be given a chance to explain what his grievances are. This incident should not be used as another reason for restricting protests on SONA," he added. ###