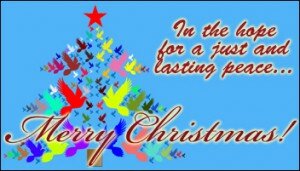 Press Statement
Christmas and New Year's message of the Bagong Alyansang Makabayan
December 24, 2011
RENATO M. REYES, JR. SECRETARY GENERAL, BAYAN
This has been a year struggles and triumphs for the people.
The year will end with Gloria Macapagal Arroyo in detention and Gen. Jovito Palparan a fugitive from the law, as the clamor for justice grows ever stronger. We stopped the Aquino government from implementing a fare increase for the MRT and LRT. The Ombudsman was ousted. We were able to defend communities from demolitions. And after decades of struggle and sacrifice, the Luisita farmers have scored an important legal victory in the Supreme Court.
The year also ends with greater challenges ahead as the people work together to rebuild their lives and communities from the devastating combined effects of typhoon Sendong and the largescale mining and logging in the region. We note too the worsening political crisis as the people demand Arroyo be made accountable while the Supreme Court remains her last line of defense. The impeachment of the Chief Justice will be a major event that will shape Philippine politics in the upcoming year and the mass movement will have to play a role.
We look forward to the coming year with great hope, not because of any promises of change from the powers-that-be, but because we believe that the people themselves are determined to struggle for a better and brighter future. We saw this in the workers' picket lines, the student walkouts, the farmers' marches, the anti-mining protests, and the long vigils for justice, the unrelenting fight for national sovereignty, and the collective spirit that motivated relief operations amid great disasters.
The Filipino people are undaunted in the face of greater challenges in the coming year. Our hope lies in our collective struggle. ###